LOGISTICS AND DELIVERY APPLICATION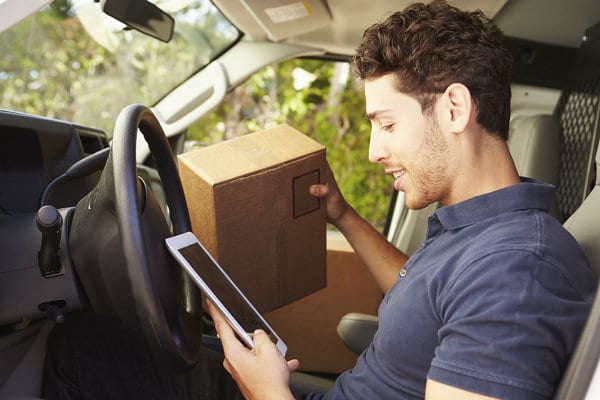 Logistics Delivery And Job Scheduling Application
Businesses all over the world strive for process automation and a true end-to-end delivery and Job solution that also improves the Last Mile for customer service.
Now you can track and manage all aspects of the orders, delivery and job process. Keep customers updated with automated notification status updates and a link that enables them to live track their delivery or service technician all the way to their door!
Order delivery and job scheduling has never been so easy! Reduce admin time and improve customer service!
Complete Delivery and Job Scheduling Application for PC and Mobile
The FleetPursuit Logistics Application is a multi-functional program providing you with a true end-to-end delivery solution giving you the ability to manage all aspects in real time of delivery or courier services.
The Logistics application has two separate applications – one for the drivers, and one for the administrators and dispatchers. It provides the ability to maintain control over the whole order management process, including job scheduling, order placement, planning, distribution, route optimisation and coordination and end order or service delivery.
Always keep your route at hand, data from Google Maps for more precise address information and routing, communicate with customers with automated email/SMS* live status update notifications, including live tracking to their door and make use of reports for efficient analytics.

You don't need special or expensive hardware to be installed!
Simply use mobile phones or tablets for your Drivers – most businesses already have these why not maximise their use?
All you need is a FleetPursuit GPS service account to access – purchase GPS hardware devices if preferred or simply use our WiaTag smart app solution.
What if the cost made it accessible to ANY size business?
Don't pay per order or per service delivery like many competitors charge – Our low cost flat price from $25 per month* gives you unlimited use!
For Dispatchers and Administrators – the Logistics PC Application

Adding Orders or Service Jobs or Importing them from other Software – Complete Flexibility
Easy import of orders from other software in CSV and XLSX files format or via JSON, or enter orders by manual input, allocate them to drivers and optimise the routes for greater efficiency.
Set up order templates and rules for easier order allocation by vehicle type, warehouse locations, start and end points. With each order you have the ability to add delivery instructions, documents, customer contact and other information Drivers may need.
Once orders have been entered and allocated, Drivers will immediately receive and see their orders and schedule on their mobile or tablet.
Using your PC Logistics account access, track and manage drivers and the progress status of each service delivery or order – live. Know when drivers are late, missed a delivery, a delivery was rejected, running on time or even early! Communicate direct with drivers securely using the integrated Chat function.
Keep your customers informed with the status of the order service delivery using the automated notifications – Door-To-Door service and Live tracking link.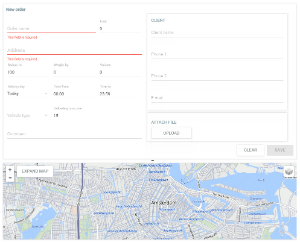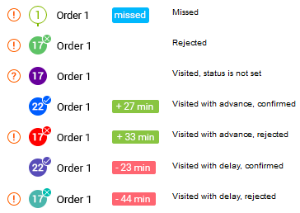 For Drivers – the Mobile or Tablet Logistics Application

Once drivers log into their Logistics mobile app, all data relevant to the order or service job will be available. This includes instructions, documents, contact information for the customer and any other details provided by the administrator or dispatcher.
Routing and Navigation
Navigation is included, making it easier for drivers and ensuring optimised delivery and job service times. Drivers can select navigation from within the Logistics App to help guide them to the location. The Navigation tool ability is a valuable way to assist drivers get to unfamiliar locations and stay on track for delivery or service times.
At each delivery or service job the driver can confirm or reject each delivery or service, providing instant status updates back to the office administrator or dispatcher. In the case of a rejected order, drivers can also add reason for rejection.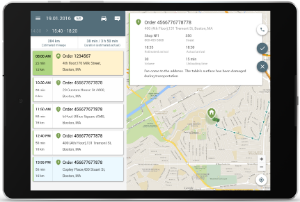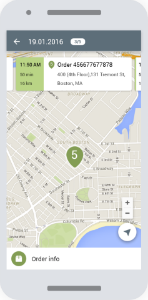 Delivery Confirmation – Proof of Delivery (POD)
PODs are vital for any business, Logistics provides the ability to manage this in multiple ways, ensuring accountability:
Sign-on-Glass – Customer can simply sign in the app's order panel confirming acceptance
POD Imaging – Alternatively customer can sign a document and an in-app image can be taken and securely uploaded
Condition Imaging – Where a delivery is made, an image can also be taken of the delivered item's condition in case of later dispute. Or in the case where no person is at location and the item is left, an image can be taken as proof of delivery.
All PODs and images are date and time stamped and stored securely in the Logistics application and administrators or dispatchers can both export them to external location and produce reports as needed.
In-App Communication – Chat
The added ability for dispatchers or office administrators and drivers to communicate is also embedded into the Logistics PC and the Drivers App, providing further controls, secure documented and audit accountability.
Reporting
As would be expected from a truly end-to-end Logistics solution, full reporting capabilities of all deliveries and other relevant data is available, allowing you to export and analyse for auditing, improvements and transparency.
LET'S WORK TOGETHER
Contact FleetPursuit to discover more about our GPS vehicle, fleet tracking & asset tracking management solutions and how we can help you improve your operations and save you money.
Headquartered in Brisbane, Queensland our services are available throughout Australia and New Zealand.